Details
seascape
---
---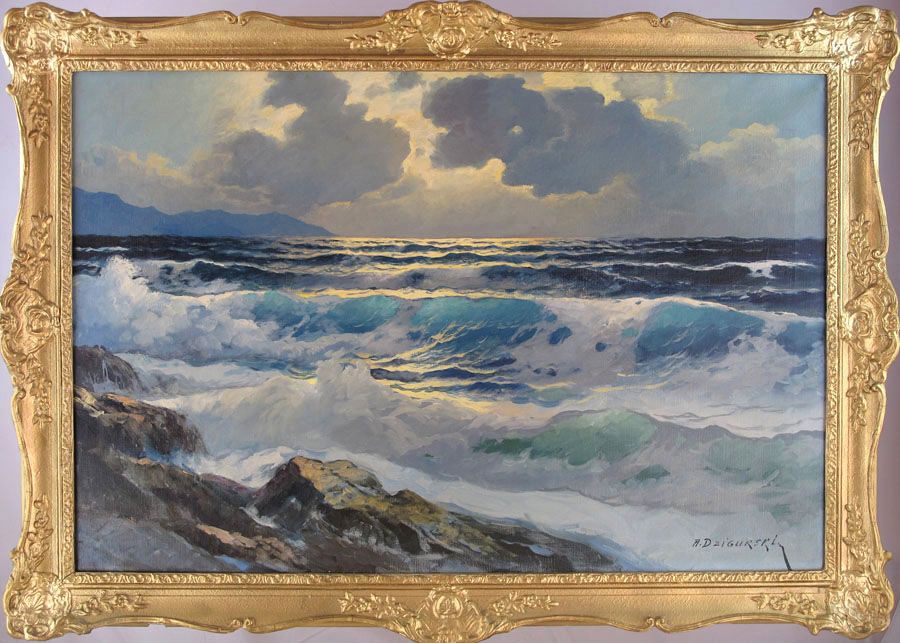 Alexander Dzigurski (1911 - 1995) Listed Serbian/American Original Oil on Canvas Seascape
Up for sale is vintage original oil on canvas painting by Serbian/American artist Alexander Dzigurski (1911 - 1995). This seascape is very well executed employing a sophisticated knowledge of light, color and perspective.
The painting itself is measuring about 36" (91 cm) by 24" (61 cm), and the frame is measuring 41" (104 cm) by 29" (74 cm).

The painting is signed by the artist in the lower right corner
This painting would be a very sound investment and a great addition to any collection.
Alexander Dzigurski (1911 - 1995)
Artist "Professor Alex Dzigurski" (Serbian, 1911 - 1995) was born of Serbian parents in Stari Becej, Yugoslavia.
He received a formal education in art at Belgrade's School of Art and in 1936 graduated from the Academy of Art in Munich, Germany. Upon completion of his studies in Germany, the young artist returned to his native country and embarked on his career in art, devoting himself primarily to portraiture and then to sacred painting.
His reputation grew and he was commissioned to decorate the interior of seven churches. He was, however, never allowed to finish his last commission as World War II erupted and Germany invaded his country. After serving in World War II, Dzigurski returned home, but life under Tito?s communist regime quickly became unbearable for the artist. He fled to Italy where he remained for several years, painting along the Adriatic and Mediterranean coasts and, in 1949, emigrated with his wife and daughter to the United States.
The artist then traveled the United States extensively as well as Canada and Europe, devoting his time to painting ocean views and landscapes. Marine paintings, though, were without a doubt his forte. A New York Times critic once characterized Dzigurski as "poet of the sea" and commented that "few marine painters have been able to tell the story of the sea so beautifully. His water is wet, deep and alive"! Be it a captivating scene of the California Coast, a majestic view of the Grand Tetons or a panorama of the Rockies, the paintings are pure magic.
The artist was unavoidably drawn to the sea, although mountainous landscapes dramatically touched him as well they reminded him of happy days spent as a young artist in the Alps. today, the works of Alexander Dzigurski are found in many prestigious collections, such as those of Nelson Rockefeller, Henry Ford II, and Thomas La Follette, and are on permanent display at the Ford Museum in Detroit. (from http://www.sausalitoartgalleries.com/Art%20Collectibles%20-%20Resale/Gachupin/Dzigurski/profile.htm)
Please don't confuse our low starting bid or discounted price with the actual value of the piece.
Please note that most of the items we sell are vintage or antique, and therefore they have some imperfections due to age, wear, etc. Anything I consider significant I would mention in the description. I'm describing the items to the best of my knowledge, however please ask any verifying questions or additional photos prior to bidding.
Also note that we deal in fine art, not a framing business. We examine carefully the paintings but the frames we got them in come along in just as complementary "as found" "just is" condition.
Shipping Details
Buyer pays cost of $56.50 shipping and handling for Continental US, $38.50 in Ontario and Quebec and $49.50 the rest of Canadian provinces.
International shipping varies from $149.00 to $269.00 by Air mail unframed to the most European countries. Please contact us for exact shipping cost to your country.
If you are planning to reframe the painting and therefore don't need the existing frame, please let us know, so we could un-frame the painting and see if the shipping cost can be reduced.
If purchased outside of Canada, buyer is responsible for any customs and duty fees, should they be assessed, as each country has different import/customs regulations.
We are also trying to be cooperative with our customers in regards to theirs preferences in shipping issues.
We take great care in packing the items to make sure they arrive safely, and all of our items are fully insured. We do everything possible on our part to ensure safe shipping, but we cannot be responsible for the work of the Postal Services and any loss or damage caused by them; however we will assist with insurance claim if needed.
Payment Details
Payment is expected within 7 days after the end of the auction, unless other arrangements have been made.
Canadian residents please add 5% GST or 12-15% HST where applicable.
Canadian buyers are welcome to pay in Canadian funds at ACTUAL exchange rate, so each of us would save 2,5-3,5% on bank's exchange fees. Just let us know that you wish to pay in $C and we will send you an invoice, so you could pay either via PayPal or Interac e-Transfer.
Moreover, when you are paying us in Canadian funds via bank wire-transfer or Interac e-transfer it saves us about 5% on such transaction and we would gladly pass that to you in a form of equal discount.