Details
---

---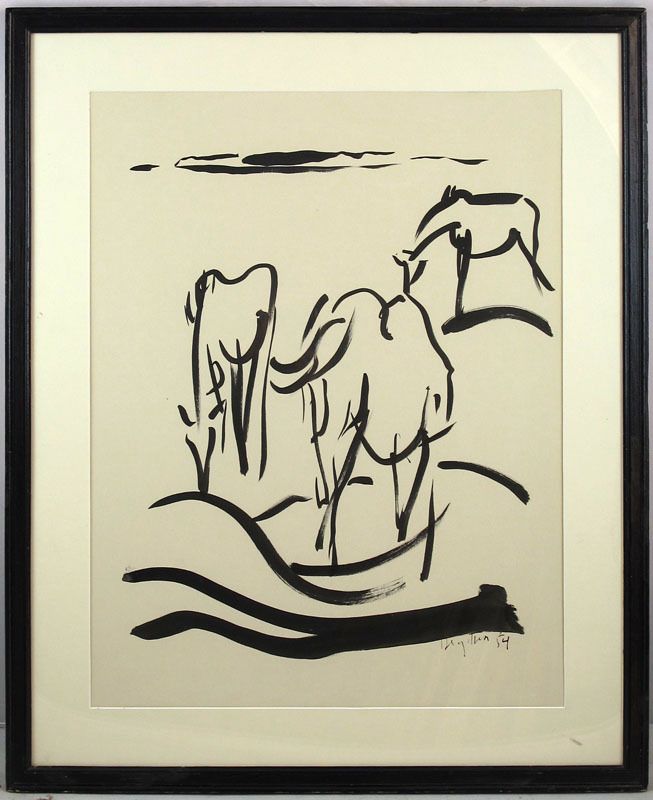 Jean Degottex(1918-1988)French Listed Original Ink Drawing
Up for sale is vintage 1954 original ink drawing by French artist Jean Degottex (1918-1988). This minimalistic graphic drawing of grazing animals is very well executed with high level of artistic skills.
The drawing in-sight is measuring about 19 ¼" (50 cm) by 25" (63 cm), and the frame is about 31 ½" (80 cm) by 25 ½" (65 cm).

It is signed and dated by the artist in the lower right corner. There is also a label from Museum of Modern Art attached at the back, with information about the artist and the drawing.
This drawing would be a very sound investment and a great addition to any collection.
Raymond R. Picard (born 1925)
Born in 1918 in Sathonay in the Ain region, France.
Died in Paris in 1988.
Jean Degottex began to paint around the age of twenty. In 1949, his first exhibition was put on by Denise René, who had championed the abstract avant-garde movement since the war and was to become the most important dealer of the new Paris school of art in the fifties. In 1952, his work was shown at the Maeght gallery as part of the Mains éblouies show. In 1953, his work was shown as part of the Younger European Painters exhibition at the Salomon Guggenheim Museum in New York. Throughout the decade, along with Simon Hantaï, he pioneered a lyrical abstraction which was to become a major influence on the New York School. Around this time, he became interested in writing and Zen philosophy, with canvases filled with large, quasi-calligraphic brushstrokes against increasingly neutral backgrounds. His work on paper from this period, bearing witness to these new interests, includes a discourse on the presence of colour. A tireless innovator, Degottex's exploration of abstraction encouraged him down new and ever more personal paths. (from http://www.collectionsocietegenerale.com/en/artists/5795-degottex.html)
Please don't confuse our low starting bid or discounted price with the actual value of the piece.
Please note that most of the items we sell are vintage or antique, and therefore they have some imperfections due to age, wear, etc. Anything I consider significant I would mention in the description. I'm describing the items to the best of my knowledge, however please ask any verifying questions or additional photos prior to bidding.
Also note that we deal in fine art, not a framing business. We examine carefully the paintings but the frames we got them in come along just as complementary.
Shipping Details
Buyer pays cost of $78.50 shipping and handling for Continental US, $56.00 in Ontario and Quebec and $78.50 the rest of Canadian provinces.
We do ship worldwide. Please contact us for exact shipping cost to your country.
If you are planning to reframe the painting and therefore don't need the existing frame, please let us know, so we could un-frame the painting and see if the shipping cost can be reduced.
If purchased outside of Canada, buyer is responsible for any customs and duty fees, should they be assessed, as each country has different import/customs regulations.
We are also trying to be cooperative with our customers in regards to theirs preferences in shipping issues.
We take great care in packing the items to make sure they arrive safely, and all of our items are fully insured. We do everything possible on our part to ensure safe shipping, but we cannot be responsible for the work of the Postal Services and any loss or damage caused by them; however we will assist with insurance claim if needed.
Payment Details
Payment is expected within 7 days after the end of the auction, unless other arrangements have been made.
Canadian residents please add 5% GST or 12-15% HST where applicable.
Canadian buyers are welcome to pay in Canadian funds at ACTUAL exchange rate, so each of us would save 2,5-3,5% on bank's exchange fees. Just let us know that you wish to pay in $C and we will send you an invoice, so you could pay either via PayPal or Interac e-Transfer.
Moreover, when you are paying us in Canadian funds via bank wire-transfer or Interac e-transfer it saves us about 5% on such transaction and we would gladly pass that to you in a form of equal discount.