Details
---

---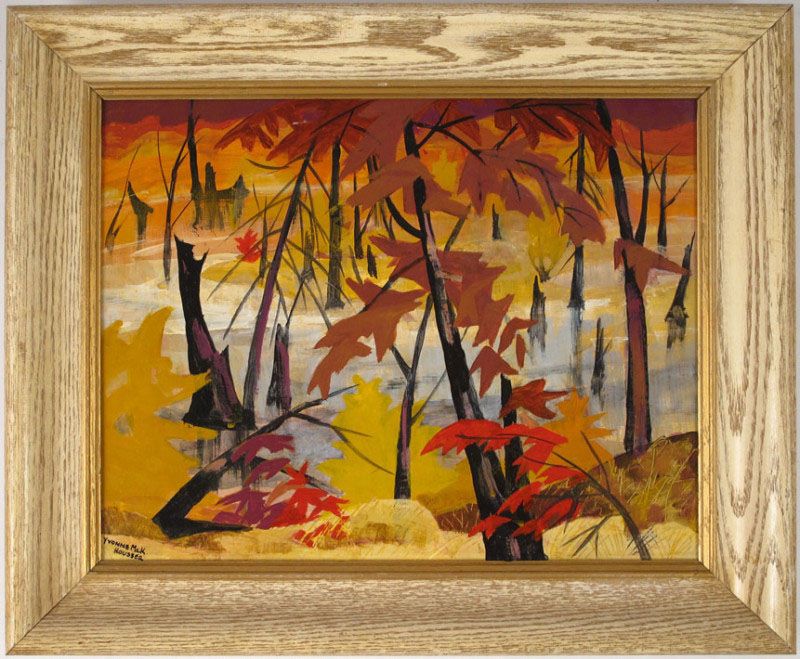 Yvonne Mckague Housser RCA OSA CGP FCA(1898-1996)Canadian Oil/Panel Expressionist Landscape
Up for sale is vintage original oil on masonite board painting by Canadian artist Muriel Yvonne McKague Housser RCA, OSA, CGP, FCA(1898-1996). This expressionistic landscape is titled "Sunset in the Swamp" and it is extremely well executed with high level of artistic skill.
The painting itself is measuring about 18" (46 cm) by 14" (36 cm), and the frame is measuring about 25" (63 cm) by 21" (53 cm).
The painting is signed by the artist "Yvonne McK. Housser" in the lower left corner and also titled and signed at the back.
The painting comes from the collection of the well-known and respected Canadian art enthusiast and collector Leonard Buckby of Ottawa and later Niagara-o-the-Lake.
Muriel Yvonne Mckague Housser (1898-1996)
With her lively paintings of northern Ontario mining towns, and in drawings and prints, Yvonne McKague Housser brought a personal interpretation to the nationalist tradition in Canadian art. She was a much admired and influential teacher at the Ontario College of Art (OCA) and was instrumental in the founding of Toronto's Art Students' League. Housser was closely associated with Arthur Lismer, Lawren S. Harris and Isabel McLaughlin, and married art critic Fred Housser.
An award-winning student and lifelong learner, Housser attended OCA during World War I, studying under William Cruikshank, J. W. Beatty and Robert Holmes. Over the years, she took further studies abroad: in Paris, under Lucien Simon at the Grande Chaumière, at the Académie Colarossi, and under Maurice Denis at the Académie Ranson; at the University of Vienna, briefly under Franz Ci?ek, an expert in art education; in Taos, New Mexico, under Emil Bisttram; in Provincetown, Massachusetts, with abstract expressionist Hans Hofmann.
After graduating from OCA in 1918, Housser remained there as a teacher until 1946, initially as an assistant to Arthur Lismer, and eventually teaching a wide range of courses. Among her early students was Isabel McLaughlin, who became a close friend and painting companion. As a teacher, Housser extended her reach broadly. She was principal advisor to the Art Students' League when it was founded in 1926, and taught both adult and children's art classes in numerous schools and universities in the Toronto area.
Housser first exhibited her work in 1923 with the Royal Canadian Academy of Arts, and in 1927 was included in the Annual Exhibition of Canadian Art at the National Gallery of Canada. Beginning in 1928, she participated in three Group of Seven shows. Numerous national and international exhibitions followed, including a two-person show at the Montreal Museum of Fine Arts.
Housser made numerous sketching trips throughout her career, traveling to the Rockies, Quebec, Northern Ontario, Mexico and the Caribbean. Her early works, such as Cobalt (1931), show an affinity to the Group of Seven, with richly-coloured houses and glacier-like tailings. Housser portrays this virtually abandoned mining site, however, as an inviting, cheerfully crooked town. Shoreline, Northern Ontario (1945) demonstrates the artist`s increasingly personal approach to form and colour. Stimulated in later decades by Canadian abstract painters and by her teacher Hans Hofmann, Housser went on to experiment with semi-abstraction and non-objective work.
Housser was a founding member of the Canadian Group of Painters and Federation of Canadian Artists, and a member of the Heliconian Club, Ontario Society of Artists and Royal Canadian Academy, holding office in most of these groups. She was made an Honorary Fellow of the Ontario College of Art in 1981 and member of the Order of Canada in 1984. (from http://www.gallery.ca/cybermuse/enthusiast/thirties/artist_e.jsp?iartistid=2534)
This wonderful painting would be a great addition to any collection.
Please don't confuse our low starting bid or discounted price with the actual value of the piece.
Please note that most of the items we sell are vintage or antique, and therefore they have some imperfections due to age, wear, etc. Anything I consider significant I would mention in the description. I'm describing the items to the best of my knowledge, however please ask any verifying questions or additional photos prior to bidding.
We also are an eBay trading assistant, so email us with an inquiry or visit our site.

http://www.artmarketspot.com
Shipping Details
Buyer pays cost of $46.75 shipping and handling for Continental US, $29.85 in Ontario and Quebec and $35.50 the rest of Canadian provinces. We do ship worldwide, please contact for a shipping quote to your country destination.
If you are planning to reframe the painting and therefore don't need the existing frame, please let us know, so we could un-frame the painting and see if the shipping cost can be reduced.
If purchased outside of Canada, buyer is responsible for any customs and duty fees, should they be assessed, as each country has different import/customs regulations.
We are also trying to be cooperative with our customers in regards to theirs preferences in shipping issues.
We take great care in packing the items to make sure they arrive safely, and all of our items are fully insured. We do everything possible on our part to ensure safe shipping, but we cannot be responsible for the work of the Postal Services and any loss or damage caused by them; however we will assist with insurance claim if needed.
Payment Details
Payment is expected within 7 days after the end of the auction, unless other arrangements have been made.
Canadian residents please add 5% GST or 12-15% HST where applicable.
Canadian buyers are welcome to pay in Canadian funds.